35 years of experience with
everything requiring light,
sound or AV equipment
We are ambitious and accommodating
Nordic Rentals and Konsertsystemer is Scandinavia's largest privately owned full-line supplier of stages, sound, lighting and AV equipment for concerts, festivals, theatre performances, musicals, conferences, TV productions and much more.
We are incredibly ambitious and approach all assignments with great perfectionism, but we are also very accommodating to our customers' needs and budgets. Often it is essential to find the best compromise. The essential thing is that we are ready on time and that the equipment we deliver works as intended. The two details that we do everything to fully and completely live up to every single time. Whether it's about renting some AV equipment for a meeting or a full-scale production with stage, lighting and sound, where we are responsible for running the technical side.
We have staff with specialised skills. Together, we form a combined force that offers professional solutions such as planning, execution, transportation, 3D visualisation of design and interior design, on-site project management and design.
Creativity, professional planning and quality characterise our work, and with many years of experience, we guarantee the perfect experience.
It started more than 35 years ago...
The story of Nordic Rentals began back in 1985. The company Lydkompag9et I/S was established and engaged exclusively in the rental of sound & lighting systems. In the following years, the company was merged with three similar companies and became a public limited company.
The company consolidated up through the 90s with very rapid growth in the market. In 2001, Lydkompag9et A/S merged with Stagelite ApS, after which the company changed its name to Lydkompag9et Stagelite A/S.
The merger was strategic, and the synergy effect between the now two business areas of sound and light was highly advantageous, as they addressed many of the same customer groups.
In 2002, the third leg joined the full-line suppliers. They had the opportunity to buy into the stage company Scandinavian Stage Concept ApS, and in that connection, they also took over Goodwill Lyd & Lys.
The company stood strong, and the customers gradually became more and more international. Therefore, it became necessary to change the name, and the suggestion came internally. The proposal was Nordic Rentals A/ S.
In 2007, the AV department was set-up, and the fourth and final leg of our concept for full-line solutions and full-line deliveries was created.
In 2019, Nordic Rentals merged with Norwegian Konsertsystemer, after which our full name became Nordic Rentals and Konsertsystemer A/S.
Also in 2019, Nordic Rentals acquired Danish Comtech A/S.
Light, sound, AV and stage in Norway
Konsertsystemer was established in March 1995. We only worked with sound at first, but shortly after also lighting.
In the beginning of the 2000's we also started to provide stages.
1 January 2014 Konsertsystemer merged with Atea Utleie AS. Atea Utleie AS was called Fotophono AS until 2011 and was established back in 1962. Atea Utleie AS and Konsertsystemer AS merged in 2014 and turned into Konsertsystemer LLB AS which became full-line supplier within sound, lighting, AV and stage, as well interpretation. In 2017 Konsertsystemer bought Atea AS out of Konsertsystemer LLB AS.
In 2015 Konsertsystemer bought the company PA Produksjoner AS in Bergen, a company within sound, lighting and stage who was established in 1996.
In 2017 Konsertsystemer bought the company Convent AS in Bergen who worked with AV and was established in 1998.
In the spring of 2018 Konsertsystemer bought the company Lyd- og Lyspartner Live AS in Aalesund who was esablished in 2007.
In december 2018 Konsertsystemer merged with Nordic Rentals.
Today Konsertsystemer have 3 departments in respectively Oslo, Bergen and Aalesund, and is a full-line supplier within sound, lighting, AV, stage and interpretation.
Konsertsystemer LLB AS is today the largest privately owned company within rental of sound, light, AV and stage.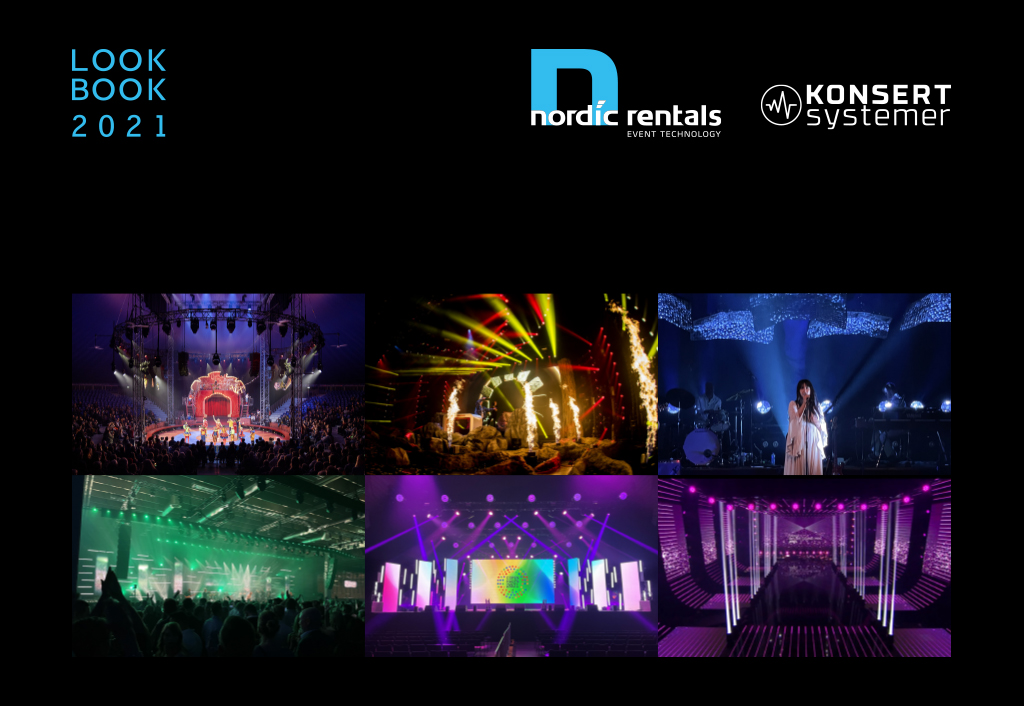 Lookbook 2021
We have made a lookbook with selected projects that we were part of in 2021. During the year, we made many different productions, and in this year's lookbook, you will get an insight into these. We make productions for everything from the big, advanced festivals to the simpler lectures and conferences. No job is too small or too big.
See previous lookbooks here
Job and
careers
A future at Nordic Rentals or Konsertsystemer
Employees are the key to our success at Nordic Rentals and Konsertsystemer. That is why we are always interested in hearing from competent and committed people who want to be a part of our future journey.
You can contact Nordic Rentals on
+45 7026 5222
or
mail@nordic.dk
, and Konsertsystemer on
+47 22 22 20 00
or
post@konsertsystemer.no
, and you will hear from us as soon as possible.
Job vacancies
Go check our social media for job postings.